Being in an English environment, it will help the children develop their language ability and their individual creativity. Our standardized American infant curriculums will them with their development.
Socializing with other kids and playing by group is one of our goals for the children to experience. We want the children to experience social involvement and develop self-reliance through our activities like circle time and work time. Music and movement, art, story, group game, etc. and playing with native teacher makes children curious and interested in English, gives them confidence and helps them think internationally.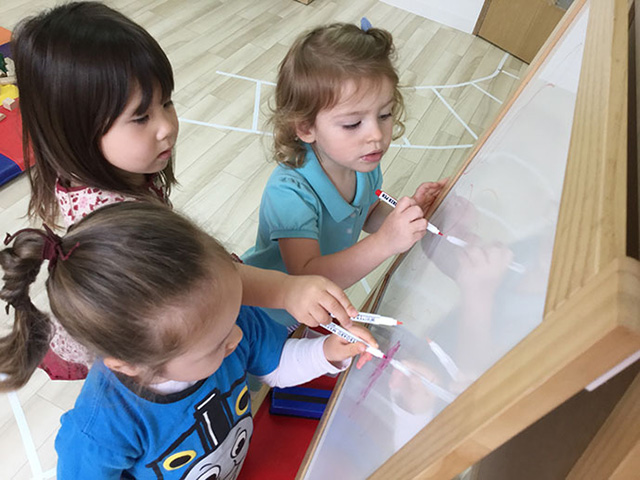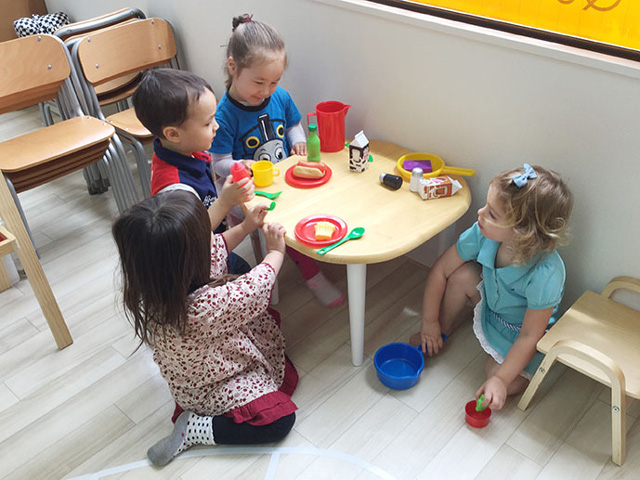 Information about our classes (time schedule and amount) 
Schedule : 9:30~13:30
Age Group : 18 months – 3 years old 
Admission Fee :41,500yen(with tax 45,650yen)
Monthly Tuition Fee


5 days a week:104,900yen(with tax 115,390yen)
4 days a week:86,900yen(with tax 95,590yen)
3 days a week:69,900yen(with tax 76,890yen)
2 days a week:50,400yen(with tax 55,440yen)
1 day a week:26,700yen(with tax 29,370yen)

Miscellaneous Fee+Insurance Fee (every 6 months) : 8,900yen(with tax 9,790yen)
Material Fee (every 6 months) : 11,500yen(with tax 12,650yen)
Features of Preschool Class
Goal of the Curriculum
We will support the children to be enthusiastic and ambitious.
Interest Area
Dramatic play, Block, Toys, Art, Library, etc. will help them know their own interests and figure the field that they are interested in by their selves.
Activity
Activities which is done by group such as circle time and story time, special event that is focused in art (the theme is changed every month), curriculum that is well-balanced.
Open-ended Question
We don't seek for a specific answer, we want children to think on their own and think creatively especially that there are many ways of answering a question.
DAILY PLAN Preschool
  9:30
Check-in (Arrival) – Work time (play by herself)
10:00
Circle Time (played by group/with her friends)
● Music and Movement, Story
10:30
Special Activity (Depending on the theme on that day)
● Art, Cooking, Science
11:30
Lunch Time, Clean-up Time
12:30
Work Time (Letting them play on the things they are interested in)
● Letting them explore and know more about their interests
13:00
Circle Time (They play and do this by group)
● Music and Movement, Story
13:30
Check-out (Going Home)